Conducted Press Meet on Media Advocacy By Odisha State Focal Point  Partnership of TB Care& Control in India (PTCC)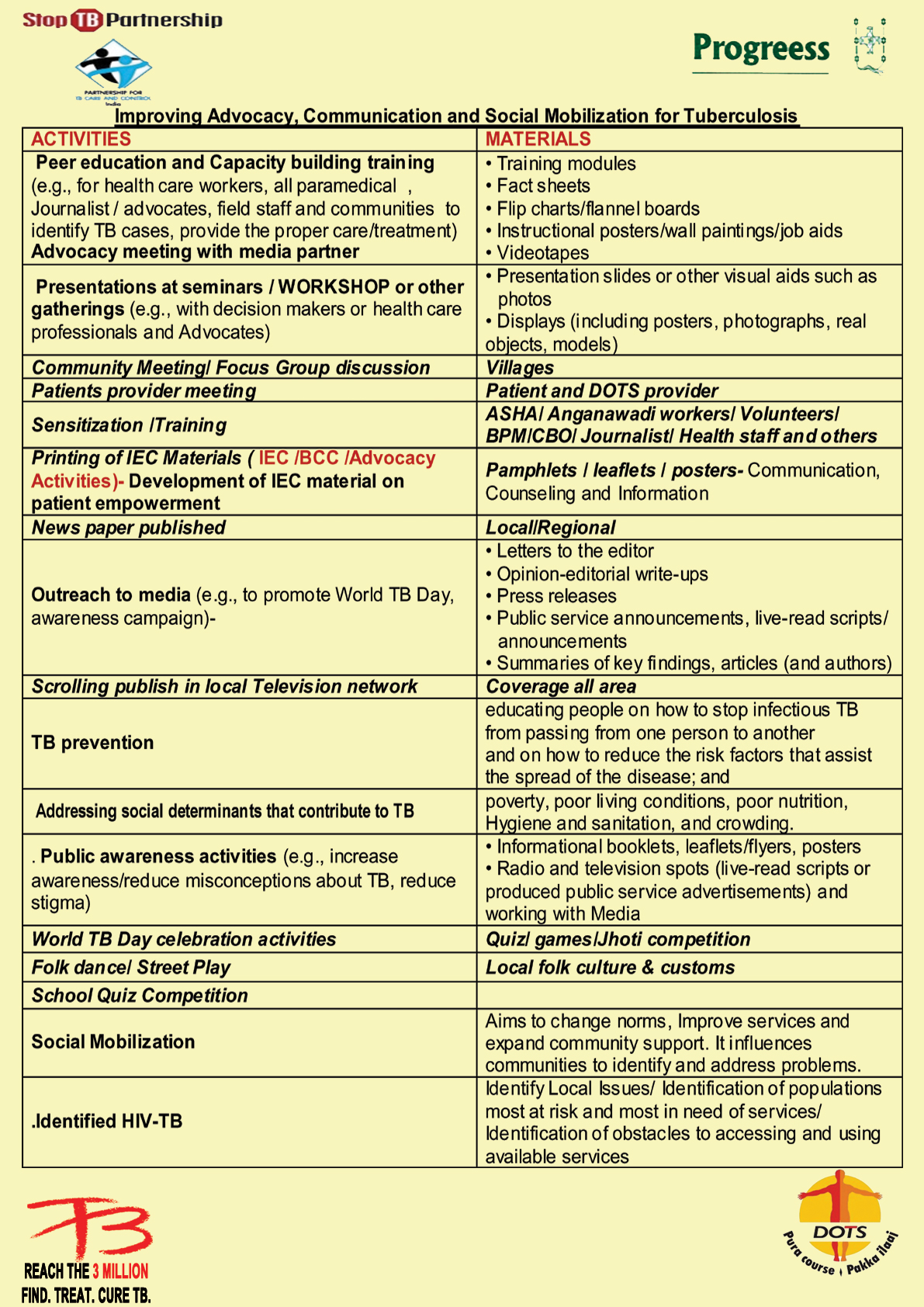 Conducted Press Meet on Media Advocacy By Odisha State Focal Point ( Partnership of TB Care& Control in India (PTCC)  at Special Circuit House, Berhampur on 28th June' 2017 at 11 AM on wards.
The objective of the workshop were based upon the emerging situation of Tuberculosis in Odisha, Where there are an estimated approxmately total of 123 cases per the lakhs poulation and in the District of Ganjam 200 people are dying every year in TB.
In view of  the above facts, there was a long discussion on this issue and it was unanimously resolved to take the following acions for the elimation of Tuberculosis
Nutritional food support to the TB patients
Special care for Women & Child in TB.
Special activity for TBpatients in remote area.
Providing Food security to the families of TB patients.
To fill-up the staff position at Grassroot level according to Government norms.
PTCC Odisha State Focal point Head-Sri Alekha Chandra Routray
PTCC Coordinator- Ms. Sanchita Rout (New Delhi)
Sushanta Balabantray, Saroj Ranjan Patnaik,Bijayalaxmi Rout and other partners were participated on the said Media Advocacy workshop and Press Meet ,More than 120 delegates and all Print & Electronic Media Professional had been attended.
All print & Electronic Media News coverage & wide propagate on this matter in all over Odisha
REACH Lilly MDR-TB Partnership Media Fellowship Programme:
(Journalists trained in reporting on TB)
This initiative is supported by a United Way Worldwide grant made possible by the Lilly Foundation on behalf of the Lilly MDR-TB Partnership.
Chennai, January 20, 2017: Journalists from across India, all recipients of the REACH Lilly MDR-TB Partnership Media Fellowship Programme, attended an orientation workshop held in Chennai last week. The Fellowship Programme, now in its seventh year, is intended to support journalists to improve the quality and frequency of media reporting on TB.
Ten Fellowships were awarded under the Local Language Programme and one under the National Fellowship Programme. This year's Fellows came from diverse publications, including Dhar News, Dainik Janabhumi, Hindustan, Patrika and People's Samachar, from different parts of India like Odisha, Jharkhand, Madhya Pradesh, Kerala, Uttar Pradesh, and New Delhi. One Fellow was awarded the National Media Fellowship, 2017.
The Local Language Media Fellowship Programme for regional journalists, a byproduct of the REACH Lilly MDR-TB Partnership Media Initiative, was initiated in 2010 to improve the quality and frequency of reporting on one of the deadliest diseases plaguing our country. In the year 2013, REACH started the National Media Fellowship Programme for English and Hindi language journalists.
Every year, after a rigorous screening and evaluation process, at least ten Fellowships are awarded to mid-career journalists to explore locally relevant TB-related issues. Along with the workshop to improve their knowledge on TB, the Fellows have access to a range of resources on TB as well as continued mentoring through the Fellowship process.
On returning to their newsrooms, Fellows are encouraged to travel within their states or districts, learning about the specific TB scenario there, meeting those whose lives have been affected by TB and identifying the stories they wish to tell. All Fellows receive financial assistance to support their travel and research expenses. Over a period of three months, Fellows are responsible for researching and writing a minimum of three high-quality, in-depth stories on a TB-related theme or issue.
The workshop was held at Regenta Central Deccan Hotel, Chennai on 19-20 January, 2017.
Observed World Tuberculosis day "Unite to End TB"
                        PROGREESS had organized a special programme of World TB Day on 24th March, 2017. That HIV-TB co-infection – improve advocacy, communication and community mobilization programme is going to be held with active cooperation of Health Department and PTCC. In this context, we take to set-up preparation of case study on HIV-TB, which is required for international TB Care & Control Society and to be initiates more affective programe in Odisha also being involved IEC activities. Identification of TB Case, Referral service, Peer education and Capacity building training, Advocacy meeting with media partner (Media Advocacy), Training to journalist & volunteers, all prior disbursement will be incurred by the organization.
 Improving Advocacy, Communication and Social Mobilization for Tuberculosis
ACTIVITIES
MATERIALS
 Peer education and Capacity building training (e.g., for health care workers, all paramedical  , Journalist / advocates, field staff and communities  to identify TB cases, provide the proper care/treatment)

Advocacy meeting with media partner

 

• Training modules

• Fact sheets

• Flip charts/flannel boards

• Instructional posters/wall paintings/job aids

• Videotapes

 Presentations at seminars / WORKSHOP or other gatherings (e.g., with decision makers or health care professionals and Advocates)
• Presentation slides or other visual aids such as

photos

• Displays (including posters, photographs, real

objects, models)

Community Meeting/ Focus Group discussion
Villages
Patients provider meeting
Patient and DOTS provider
Sensitization /Training
ASHA/ Anganawadi workers/ Volunteers/ BPM/CBO/ Journalist/ Health staff and others
Printing of IEC Materials ( IEC /BCC /Advocacy Activities)- Development of IEC material on patient empowerment
Pamphlets / leaflets / posters- Communication, Counseling and Information
News paper published
Local/Regional
Outreach to media (e.g., to promote World TB Day, awareness campaign)-
• Letters to the editor

• Opinion-editorial write-ups

• Press releases

• Public service announcements, live-read scripts/

announcements

• Summaries of key findings, articles (and authors)

Scrolling publish in local Television network
Coverage all area
TB prevention
educating people on how to stop infectious TB from passing from one person to another

and on how to reduce the risk factors that assist the spread of the disease; and

 Addressing social determinants that contribute to TB
poverty, poor living conditions, poor nutrition,

Hygiene and sanitation, and crowding.

. Public awareness activities (e.g., increase awareness/reduce misconceptions about TB, reduce stigma)
• Informational booklets, leaflets/flyers, posters

• Radio and television spots (live-read scripts or

produced public service advertisements) and working with Media

World TB Day celebration activities
Quiz/ games/Jhoti competation
Folk dance/ Street Play
Local folk culture & customes
School Quiz Competition
 
Social Mobilization
Aims to change norms, Improve services and expand community support. It influences communities to identify and address problems.
.Identified HIV-TB
Identify Local Issues/ Identification of populations most at risk and most in need of services/ Identification of obstacles to accessing and using available services
The programme has been started with expert volunteers and other professional staff in Ganjam District since last